Why Your Realtor Website Must Be Mobile-Responsive
With a third of Realtor website views coming from mobile devices, responsive websites are a must-have, not a nice-to-have, says marketing guru Jeff Kee.
As of March 2015, approximately one-third of Realtor websites were viewed on mobile browsers rather than traditional desktop or laptop screens. Most people will google somebody's name to find more information on that person before committing, and many others will stumble upon your website while they search for listings or agents on Google.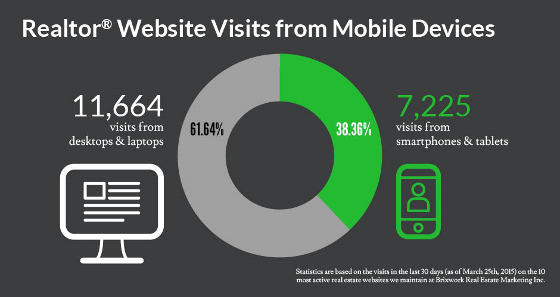 Mobile-Responsive Sites
Remember that time when you went to a site and you couldn't find the email or phone number right away? Or the time when you had to pinch and zoom so much for one piece of information? And you hit the "back" button in frustration, or decided to check it out later at your office and totally forgot about it? When websites are mobile responsive, they are configured to morph to different sized screens for different mobile devices. Items will enlarge and reposition themselves for optimal viewing on the smaller screen. Some content can be hidden from mobile browsing views to optimize and speed up the user experience.
Customer Benefits of Responsive Real Estate Websites
Full-width photos of homes: While many images are shown side-by-side on larger screens, this may be too small on an iPhone screen. Responsive sites will take side-by-side images and put them top-to-bottom for an easier viewing experience.
Large, easy-to-read text: What used to be double or triple columned paragraphs becomes single column, therefore much larger. Users do not need to pinch-and-zoom to read small text.
Easier to swipe through content: With a strictly vertical layout, people can easily swipe up & down to go through all your pages.
How Responsive Websites Rank Better on Google
User bounces:

When a user performs a search on a mobile browser and lands on a website that is not mobile-responsive (therefore hard to read), he/she may hit the back button right away. Google logs these bounces, and may consider your website less relevant to whatever search query that was used.

Google plays favourites!

Google has announced that they will be showing mobile-responsive results as a priority over those that are not. Google already shows "mobile-friendly" on search results as it is. Change in ranking based on this factor puts even greater importance on having a responsive website. You can lose a lot of visitors quickly if this happens.

More traffic never hurts:

While Google does not rank websites by popularity & traffic, having healthy traffic on your website as a result of becoming mobile responsive helps indirectly. You may get more shares/likes on Facebook and Twitter if more people stay on your site longer.

Good website metrics:

Having high number of visits & pageviews can also be a factor in winning that next big listing.
Responsive Mobile Websites Are Now A Must, Not An Option
There was a time when responsive websites were a new and fancy luxury item for businesses, when the first Blackberries were used by a few select people. Times have changed quickly, and it has now become a standard. Many users will find it frustrating to use a non-responsive website. Viewing habits have never changed this quickly in history of all media, and real estate agents need to adapt to it just as quickly.