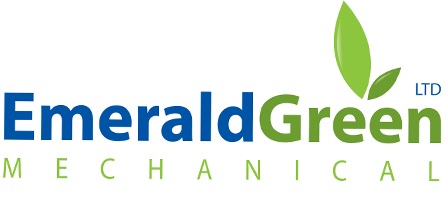 Go Green, Go Emerald Green!!!!

Emerald Green Mechanical has been a family owned and operated business in the HVAC, Refrigeration, Heating, Plumbing and drainage industry since 1993. Our commercial experience in the lower mainland includes churches, clean rooms, restaurants, computer rooms, labs, retail space, office space, and residential.
Our residential experience encompasses a full range of services including plumbing, drain cleaning, drain tile repair, furnaces, air-conditioning, heat pumps, ventilation systems etc.
We are a licensed, bonded and insured to work as a residential and commercial contractor. We employ a highly skilled staff of certified technicians and customer service professionals. Our goal is to provide quality service and installation using the best products in the business.
We pride our self in taking care of our environment and all our technicians go the extra step to make sure all materials such as (Refrigerants, Oils, Metal, Cardboard etc.) are handled with care and recycled or disposed of in an environmentally sound manner.
If you you would like a quotation or require immediate assistance, please click here to contact us. Or call our office @ (604) 878-8080
Emerald Green where honesty, integrity, and the environment still means something.
Call Today (604)-878-8080 or (604)-538-6060
Or email us at office@GoEmeraldGreen.com